Yehuda Tassa filling a flower component of a filigree pendant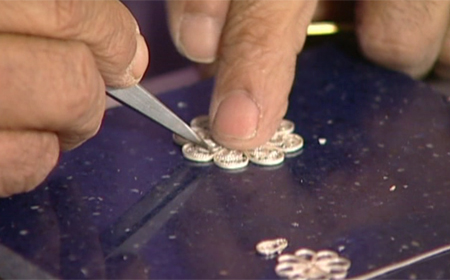 Friend, filigree mentor, and filigree master Yehuda Tassa is about to release his second filigree how-to DVD. While reviewing the DVD for Yehuda in order to give him feedback before the final version is cut, I took some screenshots.
Yehuda Tassa, Yemenite Filigree Master, as seen in excerpt from his second DVD to be released in 2009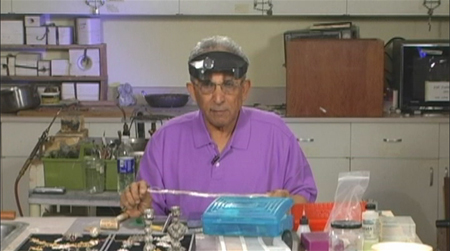 Back in the first few sessions of filigree workshops, Yehuda used to teach the flower project first. Once us intermediate students convinced him, he started teaching an easier project to the new students, and this is now a second project in his workshops.
Below are the first three things I ever created in filigree, years ago. The filler patterns that Yehuda is teaching are different than those in my pendant/pins. And, you'll notice I went for a prong setting in all three of my pieces; the DVD teaches a bezel set stone on a pendant. If the picture of my pieces looks familiar, perhaps you've seen the photo before in "The Art and Craft of Making Jewelry: A Complete Guide to Essential Techniques" by Joanna Gollberg, Lark Books.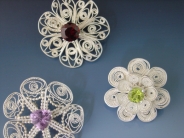 "Fraternal Triplets"
Sterling and fine silver, amethyst, garnet, and peridot
Pendant/Pins